How do I run Soundflower on my Mac?
If you tried to record a Mac screen with sound, you might hear about Soundflower. Does Soundflower still work on M1 Mac? Is it safe to download Soundflower on Mac? Is there any easy way to set up Soundflower?
Soundflower
Soundflower is an open-source kernel extension for macOS; it created a virtual audio output device that also can act as an input. When you want to record a system sound from macOS, you need a virtual device to record the sound; Soundflower can help. But the setup is complex; if you are not a tech guy, please skip the setup of Soundflower, and try some easy ways from 3rd party apps.
Screen Recorder by Omi
Search Omi Screen Recorder; you will find this app on Mac App Store, the average ranking from users is 4.8 stars. From the user's feedback comments, this is a straightforward and easy-to-use screen recording App.
After installing the Omi Screen Recorder, you can start the app to record the screen, area, or some specific window. Compared with the system QuickTime recorder, you can simultaneously record the microphone, system sound, and the facetime camera.
You can pause the recording at any time and resume without any delay. You can record with 4K resolution with 60FPS for high-quality video or change the resolution and frame rate in the settings if you want to have a smaller size of video file.
Omi Screen Recorder also provides a simple video editor feature; you can trim or convert the video format with a free feature.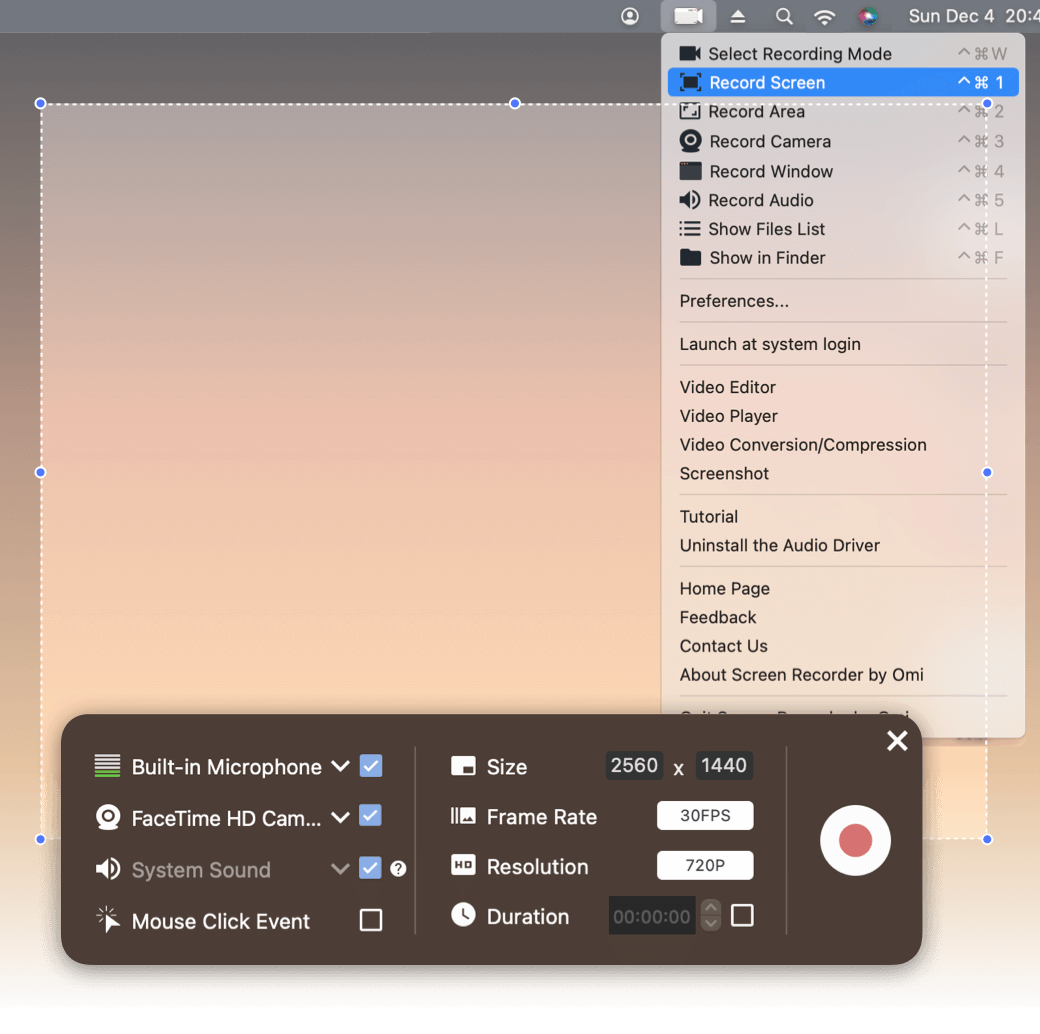 Why not QuickTime?
By default, QuickTime does not record the system sound unless you install Soundflower and choose the Soundflower audio devices. And you can not change any resolution, frame rate, or video quality.
If you want to record the screen with your facetime camera, there is no way to use the QuickTime recorder. Also, you can not pause the recording or set any duration time.
Summary
If you trust the user comments from Mac App Store, Omi Screen Recorder is one of the best screen recording apps, which is much easier than Soundflower. Try to download it on Mac App Store and have a try.