The Best 6 Video Player for Mac
Before we jump into the comparison, I will show the feature table to list all features of each app, so you can have a general idea before you read the detail.
1. Omniplayer - The best of the best video player for mac users.
From the table, you can find it easily, and it supports all features you want to have for a video player or music player. It even supports online videos from YouTube, you can watch the youtube video without any annoying ads.
Besides the extensive range of supported file formats, it provides stable playback controls, and multiple TV streaming support.
The whole UI interface is just super wise; it is an all-in-one Mac video player, but with a super great UI design and theme. It has gesture support, and everything matches Apple's mac design.
The Safari extension is a super Ad-Blocker for YouTube, so you can watch or stream youtube videos ad-free.
What I like a lot is the subtitle auto-download feature; it seems they integrate with opensubtitles. And it is easy to match the video with the subtitle online and download it automatically.
It provides two channels to download free, one is from Mac Appstore, or you can download the package from their website OmniPlayer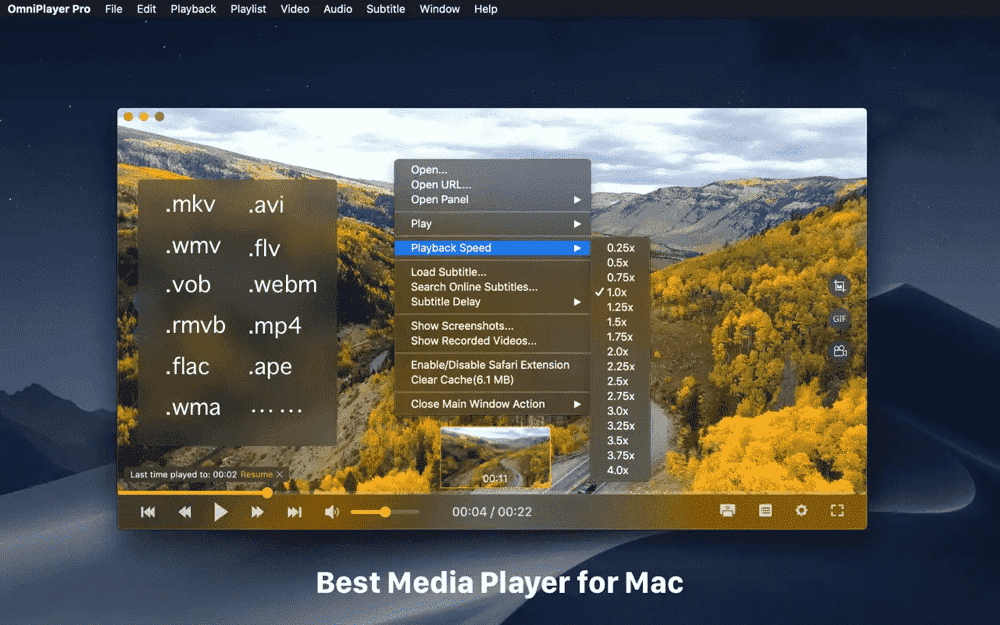 2. Justplay: A light video player just like the name
It is another way of the video player, the interface is super simple and just make everything work, it also supports a massive list of file format, and it even supports 8K videos. Another thing is, it supports the touch bar integration, but it is not free, not even a free trial version. It might block most users from trying it.
3. VLC: The best video player not just for Mac, it supports all platforms
Any video player app can not ignore VLC; this is the king of the video player because VLC is a free, open-source video player, so many of the other apps are using VLC as a library. Especially VLC supports all platforms, not just Mac; it also supports Android, iOS, Windows, and Linux. It even supports users to have customized extensions and skins. But VLC is an old fashion tool, everything is too tech, and UI is not as modern as the other apps. Again it still is the king of this category, but it is just far away from the users.
4. Elmedia: The enterprise products of the video player
The price is super high, but the quality is also excellent, especially for the PRO version, It supports virtually file format, and if you are a professional user, you can try it. It can stream content to Apple TV. This is a plus feature.
5. IINA: Another open-source, free video player
Like VLC, this is another open-source and free video player, but actually, the major video library is not built by IINA; it is based on ffmpeg. It is more like they create a modern UI for VLC. It provides rich subtitle options also. But IINA is super storage and CPU-heavy app if you tried it on your Mac. So make sure you are using a Pro or iMac before you tried with this one.
6. 5KPlayer: As the name, the Ultra HD video player
You can easily read this app's features from the name, it plays ultra HD video well, and it supports DVD files. Still, it is very laggy and choppy; if you used it in daily video playing, you would find it is not good as the other video players.