How do I open RAR files on mac Monterey 2022?
Many archived file formats include zip, gz, 7z, rar, ISO, pkg, etc. You can find the answer in this blog if you have similar questions as below.
Are RAR files safe for Mac?
What is the best free RAR extractor for Mac Monterey?
How do I open a RAR file without Winzip on Mac?
How do I unzip a RAR file?
How do you unzip files on Mac?
Oka Unarchiver - Mac Best Free Unarchiver, Unzip files on Mac, WinRAR for Mac.
RAR is an archive that contains one or more files compressed with RAR compression. It is compressed with a higher compression ratio than typical ZIP compression and incorporates a proprietary compression algorithm utilized by other compressors, including 7-Zip for its .7Z files. Since RAR archives store files in a reduced size, they are often utilized to transfer or store files.
Because of the higher compression ratio, sharing files on the internet is very popular. But you can not unzip RAR on macOS even when you upgrade to the latest OS, Monterey 2022.
Oka Unarchiver is one of the best unzip tools for you. It also supports batch unzip if you have multiple archived files. It also has a password book to help users unzip these password-protected files. This is the best winRAR alternative on macOS.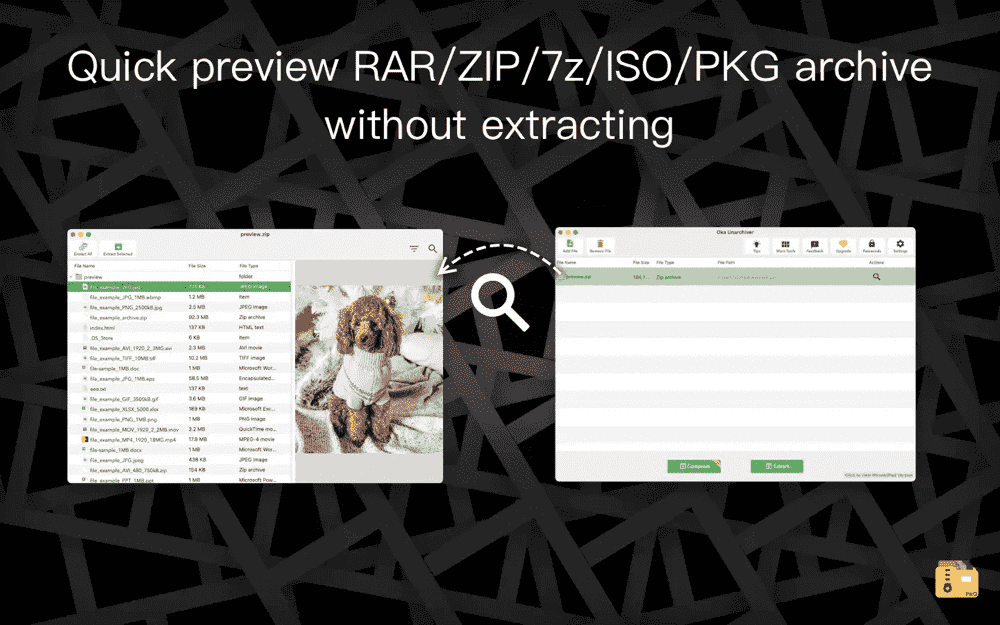 BestZip
This is a seven-day free trial app on Mac App Store. After the trial period, you can pay 9.99$ to unlock it. It also can provide the feature to unzip rar files, but there is no context menu like most unzip apps. You can not unzip the file by the right menu directly.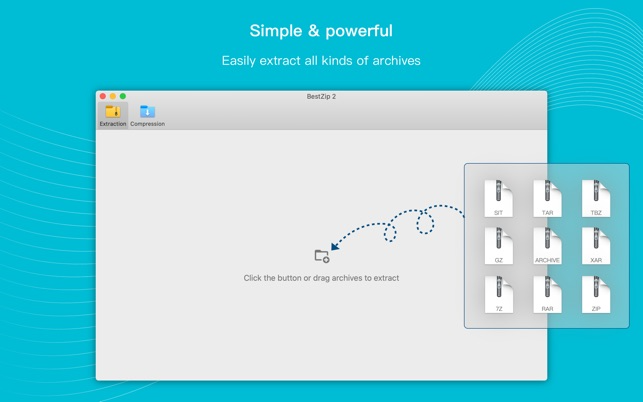 The Unarchiver
The Unarchiver is a small, easy-to-use program that can unarchive many kinds of archive files. The Unarchiver app will open common formats such as Zip, RAR (including v5), 7-zip, Tar, Gzip, and Bzip2. It will also open many older formats, such as StuffIt, DiskDoubler, LZH, ARJ, and ARC.
It will open other files, like ISO, BIN disc images, and some Windows.EXE installers. The list is much longer – see the program homepage for the complete list.
Winzip
Winzip can zip or unzip files on the Mac and open .7z files on the Mac. Winzip on the Mac supports email and can share files directly to Dropbox and Google Drive. WinZip for Mac is packed with tools to maximize your productivity and minimize file sizes. You can use Winzip to zip and unzip files instantly on the Mac. Protect confidential data with strong AES encryption and share directly to Dropbox and Google Drive.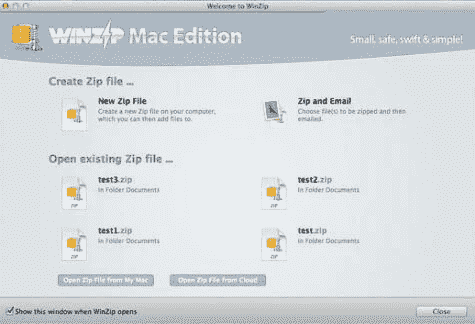 This unarchiver app can back up photos and projects and fit more onto CDs or DVDs using the' Zip and Burn' feature. You can use Mac's 'Quick Look' tool to browse a zip file's contents before you decide to unzip it.
The WinZip Mac Edition helps you over the hurdle of sharing or receiving compressed folders or archives from PC users. WinZip keeps files completely secure with strong 128-bit or 256-bit AES encryption for password-protected files.
Key Features:
Password protection with AES-256
View contents without extracting
Modify existing archives
Search within archives
Selective file extract
Cloud support for iCloud Drive, Dropbox, and Google Drive
Extract File Formats: RAR | 7Z | BZ2 | LHA | LZH | CAB | ISO | IMG | TAR | GZ | TAZ | TGZ | TZ | Z | Uuencoded | XXencoded | MIME | BinHex | Zipx | Zip
Better Zip
BetterZip 2 is a powerful archive manager for the MAC. You don't have to extract the whole thing if you only need a few from a larger archive like a RAR Mac file or any other compressed file format files or folder. Just drag the files you need from the BetterZip window to any Finder window or the desktop.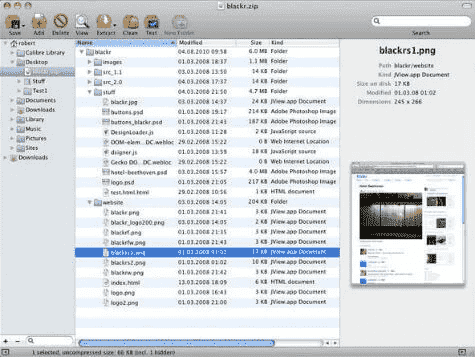 BetterZip allows opening archives without extracting. You can drag files and folders from your hard drives, disks, or network places into a new compressed file. You no longer have to copy all the files into a temporary folder first and can split large archives.
You can add new or updated files to existing archives, remove any file or folder from an archive, or even move files around inside the archive as if it were a normal folder. BetterZip can protect your data with a password and create WinZip-compatible AES-256 encrypted archives.
Key Features:
Password protection with AES-256
Modify existing archives
Remove files from an archive.
Drag and drop archives
Unarchive From: ZIP, SIT, TAR, XAR, XZ, GZIP, BZip2, RAR, 7Zip, CPIO, ARJ, LZH/LHA, JAR, WAR, CAB, ISO, CHM, RPM, DEB, NSIS, BIN, HQX, DMG, EPUB, ZIP To ZIP, TAR, GZip and BZip2, TAR, XAR, 7-ZIP, RAR
Archive To: ZIP, TAR, GZip and BZip2, TAR, XAR, 7-ZIP, and RAR
iZip
iZip is a simple-to-use, efficient, and powerful utility built for the Mac with compression and encryption technology. iZip allows you to zip, unzip, secure, and share your files. You can save documents directly to a zip file or even drag-and-drop files between archives. iZIp allows browsing photos and videos in Cover Flow mode, viewing a slideshow, and playing videos–without extracting anything from the file you sent.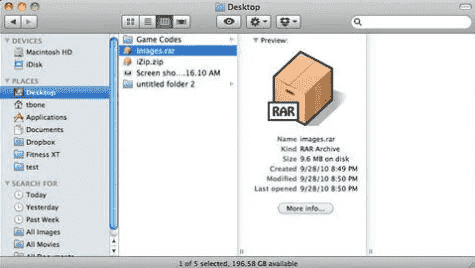 iZip features up to 256-bit AES zip encryption, so you can rest assured unauthorized users will not be able to view any of the confidential information. With iZip, you can share your archive in a few clicks using the tight integration with the wonderful, fast, secure files.com file-sharing service. Securely send and receive files with your friends and colleagues – even those running Windows or Linux.
Key Features:
Password protection with AES-256
Preview archive content
Drag and drop archives
Unarchive From: ZIP, ZIPX, RAR, TAR, TAR.GZ, and 7ZIP.
Keka
Keka can compress files by dragging and dropping your desired files and folders to Keka in the Dock. You can drop as many as you want at once, and all of them will be archived into one compressed file.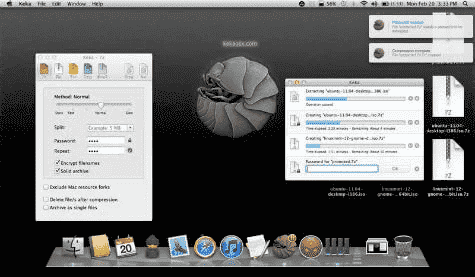 The Keka main window lets you choose your desired compressed format, like 7z, Zip, Tar, Gzip, or Bzip2. If you're compressing a big file, you can split it into parts by just selecting the size you want, in Bytes (B), Megabytes (MB), or Gigabytes (GB). With 7z and Zip, you will have the opportunity to create password-encrypted files to protect your privacy better. You can create archives that look clean in non-Mac systems, like Linux or Windows.
Unarchive From: RAR, 7z, Lzma, XZ, Zip, Tar, Gzip, Bzip2, ISO, EXE, CAB, PAX
Archive To: 7z, Zip, Tar, Gzip, Bzip2, DMG, ISO
RAR Extractor
RAR Extractor Free is a specialized application program aiming at Rar, Zip, Tar, 7-zip, Gzip, Bzip2 files, and you can use it to extract archive files conveniently and, quickly, and safely. This app can extract files from Rar, Zip, Tar, Gz, Bz2, and 7z files, supports extracting password-protected archive files, and also do batch extracting.
So there are a lot of zip/unzip apps that can help Mac users in 2022.